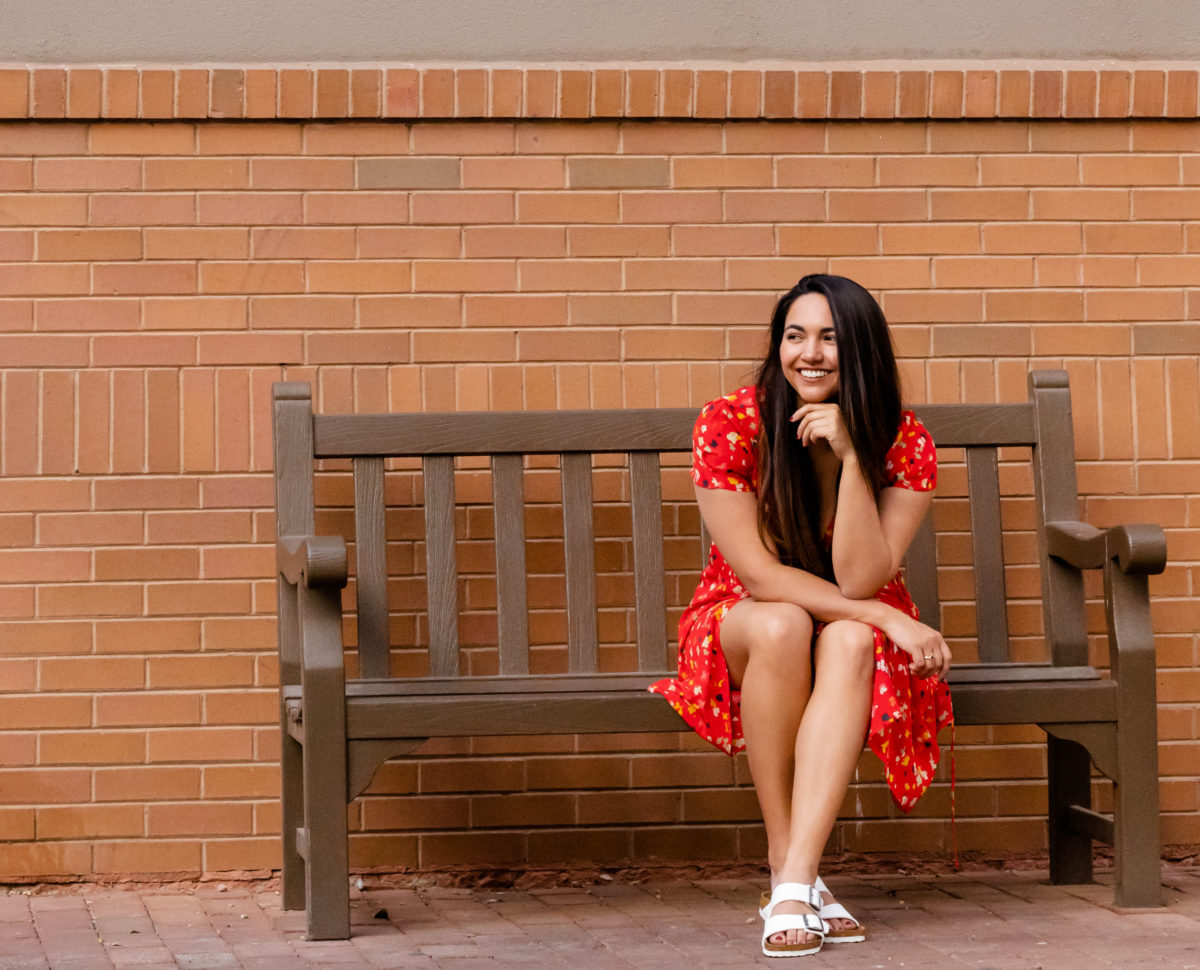 A huge thank you to Katie Booth Photography for these photos!
Let me start with this – I have been lusting over this print from Realisation Par since the day I discovered the brand. Their dresses are so cute, but I could never pull the trigger on one myself. After reading a few online reviews, discussing my size with customer service, and waiting for this gem to come back in stock, I finally pulled the trigger.
I struggled over which size to purchase for a while. Most of the brand models are uber thin with small busts and slim hips. Basically, they look nothing like me. So, it was hard to discern how the dresses would look on my body. I scoured the internet for dress reviews from girls who were over a size XS or S and came up empty.
By all means, I do not consider myself plus-size. I'm just an average-sized woman who wants to know what something looks like on me.  Hopefully my review will help other women who range between a US 6-8 decide if these dresses will work for them.
The Teale:
I chose the Teale dress for a few different reasons. I love wrap dresses and had been wanting to replace the red mini dresses I had in my closet. I wanted something that was still sexy, but something just a little longer. Somewhere in the last few years, I realized my dresses were shorter than I remembered and I felt like I needed something longer, that didn't require constant worry about flashing my butt to passers-by.
If you recognize the dress, you may have seen it on other bloggers or you may have seen the purple floral version worn by Selena Gomez. I've decided this dress officially looks good on anyone.
My measurements:
In the name of transparency, this is my size.
In general, I am a US size 6. For the most part, this always holds true. When it comes to dresses, I occassionally size up to an 8 to accommodate my size 34DD chest.
I wear a size 28 in most denim brands including Lucky Brand, Paige, and Levi's.. In jeans without as much stretch (100% cotton), I generally size up to a 29.
In inches, my measurements are 40-29-39.
That's as in-depth as I think I can go.
Dress sizing:
In this dress, I ordered a size large. I'm glad I sized up instead of going with the medium. I read that a few dresses from Realisation run large, which I did not find to be the case. I don't think a medium would have covered my chest although it would have been fine around the waist.
My ultimate conclusion is to stick with your usual size unless you have a larger chest; if so, you should definitely size up.
The ordering process:
The ordering process was really simple, just like any other online shop.
What I will say is the items online do sell out. If you see something you like in your size, it could sell out rather quickly and restocks take a while. I had to sign up for the waitlist to get this dress and I ordered it as soon as it came in stock.
Customer service:
Customer service was really helpful in determining my size and giving me an approximate restock date. I gave them my sizes and they recommended the large as well, which I think was overall a good recommendation.
I used the live chat feature often to ask when this dress was going to be restocked and they had a pretty good idea of a general timeframe, but no exact date. I would say the time frame they gave was also accurate.
Dress Quality:
I absolutely love how this dress fits and looks. It's extraordinarily flattering, even more so in person. The dress itself is made of 100% silk, which makes it feel a lot more delicate than I'm used to. Since my chest often pulls at the fabric, I'm a bit worried about pulls and runs at the stiching. The silk is also a bit sheer, so nude undergarments are a must with this dress.
While I'm not overall blown away by the quality of the dress, the dress itself is so gorgeous and I'm excited to wear it this summer.
What do you think? Will you be adding a Realisation dress to your closet this summer?
Keep an eye out for my upcoming reviews of the Cher Top and the Amelia Dress. I hope to add the 1996 dress to my collection during the next sale!
P.S. Realisation Sales happen about 2-3x each year; once in March, once in late summer or fall, and once on Black Friday!
All photos by Katie Booth Photography.